With the rupee value touching to Rs.74 per Dollar, we will look at how it will impact the real estate sector, in terms of prices.
The rupee has been depreciating since the beginning of this financial year, it has impacted both positive and negative to different industries, which real estate is not exempt.
REAL ESTATE:
---
The falling of the rupee against foreign currencies is usually a sign of weakening economic health. A weak rupee can cause escalations in the budget and delays in the timeframe of projects, thereby, impacting buyers and builders alike, in the long run ,apart from impacting the cost of services and raw materials used like steel and cement, to labour wages, transportation cost and subcontracting of architects, engineers and builders.
WHAT'S IN IT FOR NRI'S:
---
The Depreciating Rupee means for NRI that the same apartment which was available at a certain cost is now available at a cheaper price. For Example, an apartment which was costing Approx. $146,135 (₹ 1 Crore) in August 2018 is now available at Approx. $135,135 which is a direct savings of $11,000, which at the current rate of exchange converts to Approx. ₹8,00,000.
A typical purchase transaction may take an NRI buyer a period of a month to up to 3 months. During this period, the rupee may strengthen and the notional advantages that could accrue due to the rupee's depreciation could be lost.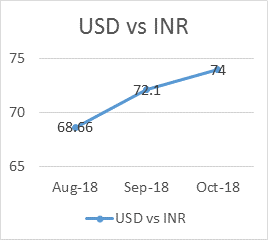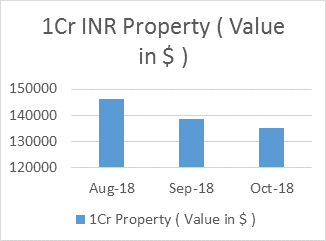 CONCLUSION:
---
A weak rupee will attract more foreign investment and lead to higher real estate prices in India.
Choose properties wisely when the value of the rupee is falling and stay invested for a long time, can earn significant returns in the long term once the currency movements stabilize.
Article courtesy: Team Homz N Space
In case you are looking for Property – Please call me @ 9590144144